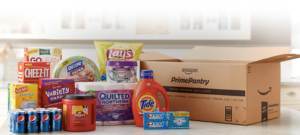 Amazon has just launched a new service called Prime Pantry, which is available to Amazon Prime members.
The way that Amazon Prime Pantry works is that you pay a $6 monthly fee (in addition to your Amazon Prime membership) and then you use the site to fill up a 45 lb. box with stuff like detergent, chips, coffee, or some of their other options (which are pretty awesome) and get it shipped directly to your house.
I hate going to the grocery store, personally. I think I'm going to check into this.
For me, the biggest benefit of this is that it's really convenient to automate shopping, which means that I don't have to drive to the store, fight for parking, spend time derping around looking for things, or have to hassle with other shoppers.
If you are an Amazon Prime member already, you can use this service.
If you aren't an Amazon Prime member, you can still look and see what is available to decide if this service is right for you. Here's a hint: it's probably worth it.
Click here check out Amazon Prime Pantry