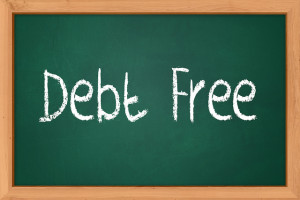 Nobody likes being in debt. It's a really crappy feeling to look at your bank account and have to tell yourself that you can't afford to do the things that you want because you just can't afford it.
It's a pretty redundant statement, right?
It's easy to get frustrated and wish that you had more money when you're staring down the barrel of debt. The monthly payments will eat you alive if you let them.
Sure, having a better pay right could help, but let's face it…your boss probably won't give you a raise just because you can't afford to party on the weekends.
So how can we make a difference?
One of the most important bits of financial advice that I can give is to start thinking about your income as if you were a business.
Forget about making a budget for now. Yes, it's important, but when you are just starting out, it's more important to know where your money is going. What you need to do is to create an income statement for your personal finances.
Here is an example of a personal income statement.
For those that don't want to click the link, here's a quick rundown: an income statement lets you know what your total debts and expenditures are. It will tell you both the total amounts of debt you have (which can be a shocker if you haven't done this before) and what you are spending on those debts from month to month). Note: these numbers can be really freaking scary, but there's no need to be overwhelmed…most people don't realize how much debt they have until they sit down and do the math.
Once you have your numbers (and your head stops hurting), you can easily tell which debts are affecting your monthly cash flow the most.
I'm sure you have heard of the debt snowball (where you pay down the smallest debt first while making monthly payments to each debt, and once it's paid off you add that payment to the next small debt and so on). Well, this is more like a debt avalanche.
The first debts that I would choose to take down are the ones that have the smallest total debt but the largest monthly payment. 
The reason for this is very simple: getting rid of a monthly payment lets you keep that much more money. For example, if you have a credit card with a balance of about $1000 with a monthly payment of $50, paying it off will give you back your $50 to allocate to something else. Pay more than the minimum. In fact, pay as much as you can until the debt is gone. Once that card is paid off, you can take that $50 and either save it, or use it to pay off the next thing. If it's a small debt, an extra $50 can make a huge difference.
This is similar to the debt snowball, but a slightly modified version that seems to have (at least to me) more synergy when it comes to getting out of debt and keeping the money that you earn.
Did you like this article? Don't miss another post! Join our mailing list!
You can also
follow me on Twitter
. And if you really like this stuff, you can
buy me a coffee
!