It seems that 2013 has come and gone already. It's crazy how fast the days go by! It's time to start making your new year's resolutions.
Over the past few days, I've seen people talking about their resolutions to start saving more money. For a lot of people, that is a resolution that is broken nearly as fast as it is made (much like dieting).
One of the more popular ideas seems to be the 52 Week Savings challenge.
How does it work?
Basically, you start out by saving $1 on the first week of the year. Every week, you increase the amount by a dollar. It pretty much breaks down like this: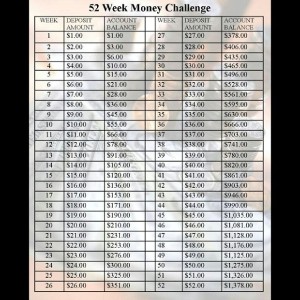 If you stick with it, you will have saved a total of $1,378 by the end of the year. 
That's not a bad way to save up for something like a vacation around the next holiday season.
I came across someone on Facebook that said that they were going to do this backwards, starting with $52 on the first week and then working backwards. That's a pretty interesting take on the savings challenge, and it works the same way except that you end up putting more money in at a faster rate. That way, if something goes wrong before the end of the year, you have a small but useful amount stashed away.
Have you ever taken the 52 week savings challenge? How far did you get before you gave up? Did you make it? If so, what did you do with the savings?
The following two tabs change content below.
Welcome to The Sugarbuzz Project! I help people find ways to make and save money! How can I help you?
Latest posts by Wess Stewart (see all)